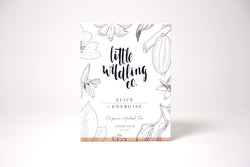 Little Wildling Co
Alive + Energise
Alive + Energise 
We've given 'I Work Out' a bit of a makeover and we think you're going to be well impressed... 
For those mornings you need an energising boost minus the caffeine. 
For those 3pm slumps where you have more brain fog than clarity. 
For those times where you want to reach for a pre-workout chemical loaded drink before exercise.
For those times you want a little more, you're welcome. 
You now have a new blend to make you feel more alive, revitalised and energised. Drink whenever you want need a helping hand throughout the day.
Ingredients: Marshmallow, Withania (Ashwagandha), Gingko Biloba, Dandelion, Yerba Mate, Turmeric Root, Siberian Ginseng, Bacopa (Brahmi) and Licorice
1 teaspoon to a cup / 4 mins / 90 degree