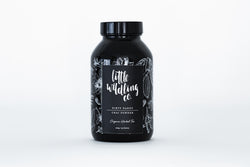 Little Wildling Co
Dirty Dandy Chai POWDER jar small
Organic, Wild-grown Herbal Tea
---

Size: small jar (200g)
Lover of chai but want it made in a fraction of the time? We hear you, that's why we've made a powdered version to whip up a Dirty Dandy Chai latte in seconds. But don't worry your fine self, our version comes free of any sweeteners or rubbish like many other powdered versions out there, in fact, its 100% identical to our OG chunky chai, but powdered for conveniences.
Our Dirty Dandy blend is a divine mix of organic roasted dandelion root with chai spices (think Cinnamon, Cloves, Ginger, Cardamom, Aniseed). We have then added just a hint of raw Cacao + a little touch of (secret) herbs to make it oh so right. A great alternative to that second cup of joe. And one you definitely need in your life.
INSTRUCTIONS: 1/2 teaspoon to hot water, stir and top with your fave milk. Add some honey for extra yum. 
--